ABOUT TREATMENTS
At Bloxwich Chiropody and Podiatry, we have a team of highly trained chiropodists/podiatrists who are experts in delivering a range of foot care treatments to ensure your feet are in the best possible health. We acknowledge the significance of foot care in maintaining overall wellness, and therefore, we are committed to providing our patients with top-notch services.
Our goal is to provide a comfortable and relaxed environment, ensuring that our patients receive the highest level of care possible.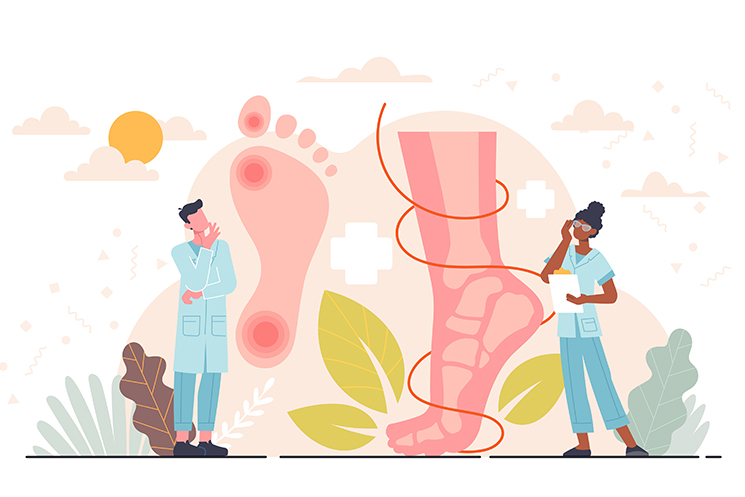 Foot care for Diabetes
Diabetes is a complex disease that can have detrimental effects on various parts of the body, including the feet. Foot complications due to diabetes are quite common and, if left untreated, can lead to serious consequences such as nerve damage, poor circulation, and foot ulcers. Therefore, it is crucial for individuals with diabetes to take good care of their feet and seek professional medical care when necessary.
At Bloxwich Chiropody and Podiatry, our chiropodists/podiatrists have extensive experience in dealing with diabetes-related foot problems. Our diabetic examination involves assessing the skin and nails, checking for any signs of nerve damage or poor circulation, and evaluating the foot's overall health. Based on the findings, we will create treatment plans to address any problems and prevent potential complications.
Our team is dedicated to delivering exceptional diabetic foot care services and educating patients on the importance of self-care to maintain optimal foot health.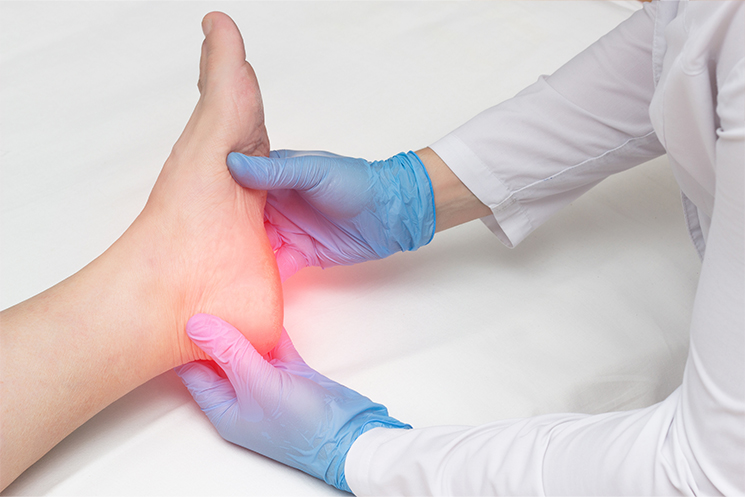 Biomechanical Assessments
Bloxwich Chiropody and Podiatry can conduct biomechanical assessments to evaluate movement patterns, joint function, and muscular imbalances. This assessment is beneficial in identifying potential causes of discomfort, pain, or injury, and in developing a personalised treatment plan to address any issues found.
As experts in stabilising the foot area, Bloxwich Chiropody and Podiatry can provide advice on an appropriate treatment plan to alleviate aches and pains. We can also offer a wide range of orthotics to choose from.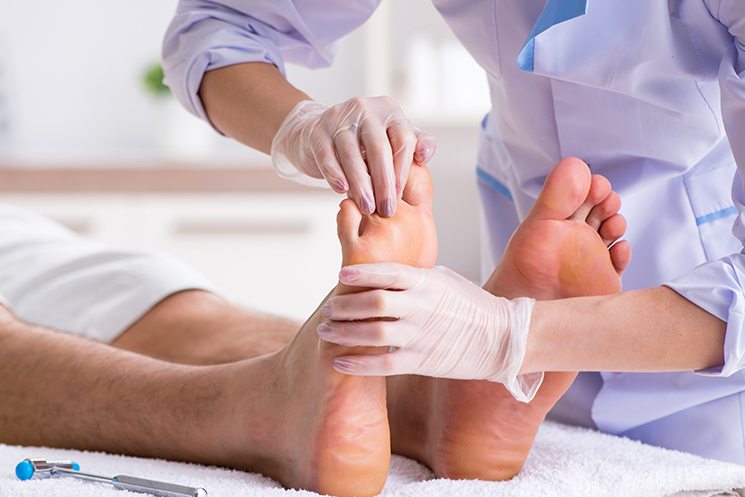 Ingrowing Toe Nails
Ingrown toenails can be a source of great discomfort and pain, and if left untreated, can lead to infection and even more severe complications. The condition typically occurs when the nail grows into the skin, causing it to become inflamed and swollen. This can cause significant discomfort, and in some cases, may lead to the development of an infection.
If you are experiencing an ingrown toenail, it is recommended that you schedule an appointment with Bloxwich chiropody and podiatry as soon as possible. We are trained to treat a range of foot conditions, including ingrown toenails, and can provide effective solutions to alleviate pain and promote healing.
During the appointment, the chiropodist / podiatrist will evaluate the affected toe and determine the best course of treatment based on the severity of the condition. Treatment options may include removing the ingrown portion of the nail, providing antibiotic medication, or offering advice on how to prevent future occurrences.
It is important to seek treatment promptly if you suspect you have an ingrown toenail. Delaying treatment can increase the risk of complications, including infection and the need for more invasive treatment options. By seeking professional care early on, you can prevent further discomfort and ensure a speedy recovery.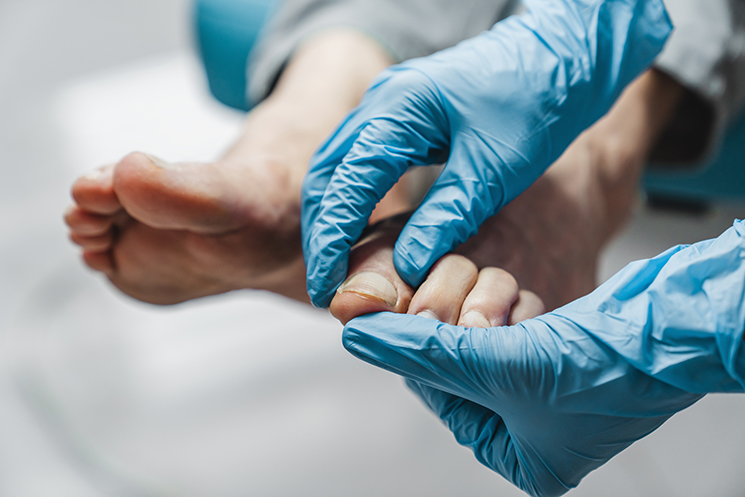 Low Level Laser Therapy
Low-Level Laser Therapy (LLLT) is a medical treatment that has been found to be highly effective in improving tissue repair, reducing pain, and inflammation. This therapy involves the application of a low-intensity laser beam to the affected area, which stimulates cellular regeneration, speeds up healing, and reduces inflammation.
At Bloxwich Chiropody and Podiatry, we use LLLT technology to offer patients a non-invasive, safe, and highly effective treatment option for a range of medical conditions. Our team of qualified professionals has extensive experience in applying this therapy to treat a variety of conditions, including osteoarthritis, tissue healing, sprains and strains, foot and knee pain and more.
LLLT works by penetrating the skin to reach the underlying tissues, where it stimulates the mitochondria in the cells to produce more ATP, the primary energy source for cellular metabolism. This boost in energy production triggers the body's natural healing response, promoting faster tissue repair and regeneration.
Our team at Bloxwich Chiropody and Podiatry will work with you to develop a customised treatment plan that meets your specific needs. Depending on the condition being treated, LLLT may be used in combination with other treatments.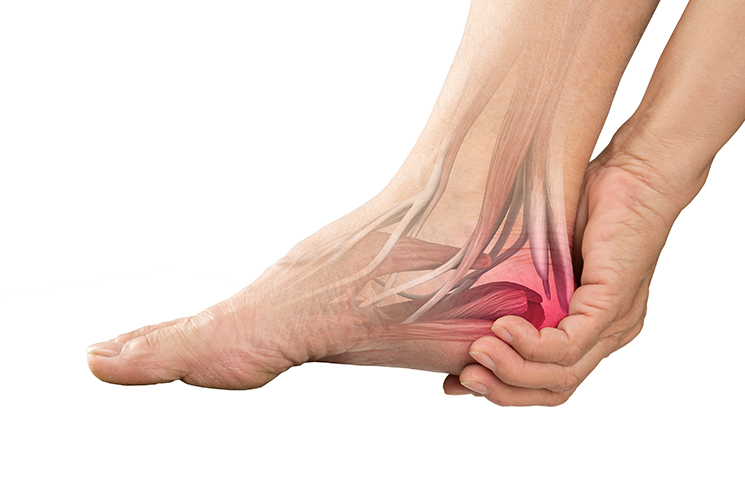 Nail Reconstruction
At Bloxwich Chiropody and Podiatry, we offer Nail Reconstruction, for unsightly, damaged, or missing nails. Our chiropodist / podiatrist uses a special resin to reconstruct the existing nail, giving it the appearance of a natural, healthy nail.
Nail Reconstruction is a safe and effective procedure that can be used to treat a range of conditions, including fungal nail infections, trauma to the nail, or damage resulting from surgery. The procedure involves the application of a specially formulated resin to the nail bed, which is then sculpted and shaped to match the natural curvature of the surrounding nails. The resin is carefully layered and built up to the desired thickness, creating a strong and durable nail that looks and feels just like the real thing.
The benefits of Nail Reconstruction are numerous. First and foremost, it offers a cosmetic solution to the problem of unsightly, damaged, or missing nails. It also provides a protective barrier to the underlying nail bed, helping to prevent further damage and promoting healthy nail growth. Additionally, the resin used in the procedure is non-toxic and safe for use on even the most sensitive skin types.
At Bloxwich Chiropody and Podiatry, we take great pride in offering our patients personalised care and exceptional results. Our team of experts will work closely with you to determine the best treatment plan for your specific needs, and will provide you with the information and support you need to achieve optimal foot health and well-being.
Contact us today to learn more about how Nail Reconstruction can help you achieve healthy, beautiful nails.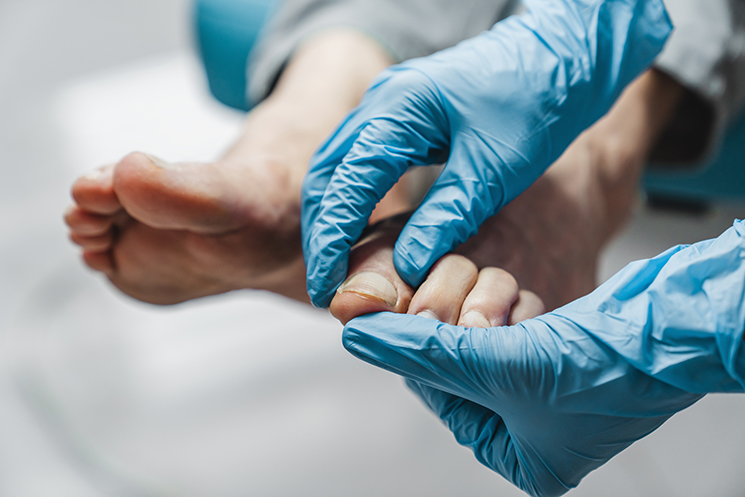 Verrucae
At Bloxwich Chiropody and Podiatry, our team of expert chiropodists/podiatrists can recommend the best treatment plan for verrucae. These plantar warts are caused by the human papillomavirus (HPV) and can be both uncomfortable and unsightly.
At our clinic, we may recommend wearing flip-flops or verrucae socks to prevent the spread of the virus to other parts of the body or to other people. We may also recommend chemical treatments, such as salicylic acid, which can effectively clear up verrucae.
It's important to note that the right treatment plan will depend on the individual case. Our team will assess your verrucae and recommend the most suitable treatment option based on your unique needs and preferences. We also offer follow-up appointments to monitor progress and adjust treatment as necessary.
If you are experiencing discomfort or embarrassment due to verrucae, contact Bloxwich Chiropody and Podiatry today to schedule a consultation. Our experienced team can help you find relief and get back to your daily activities with confidence.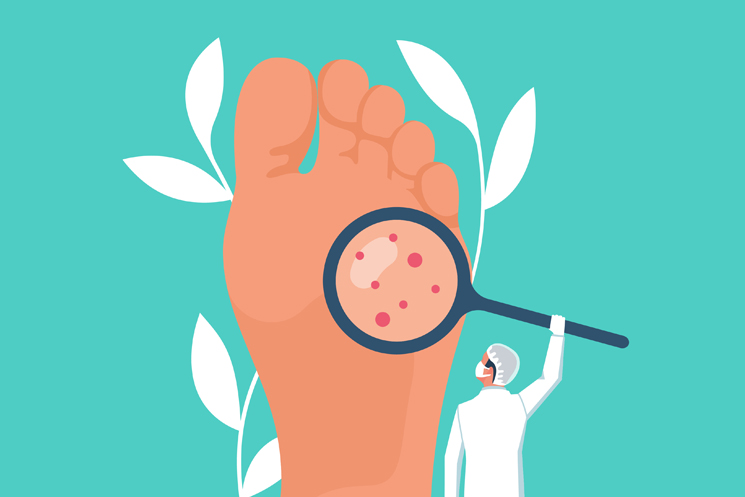 Children's Chiropody and Podiatry
At Bloxwich Chiropody and Podiatry, we offer a specialist area of treatment known as children's chiropody. Our focus is on treating foot and lower limb problems that commonly affect children, such as flat feet, in-toeing, out-toeing, and gait abnormalities. We understand the importance of addressing these issues early on to prevent future complications and promote healthy development. Our chiropodist / podiatrist is dedicated to providing quality care to ensure your child's feet and lower limbs are in good health.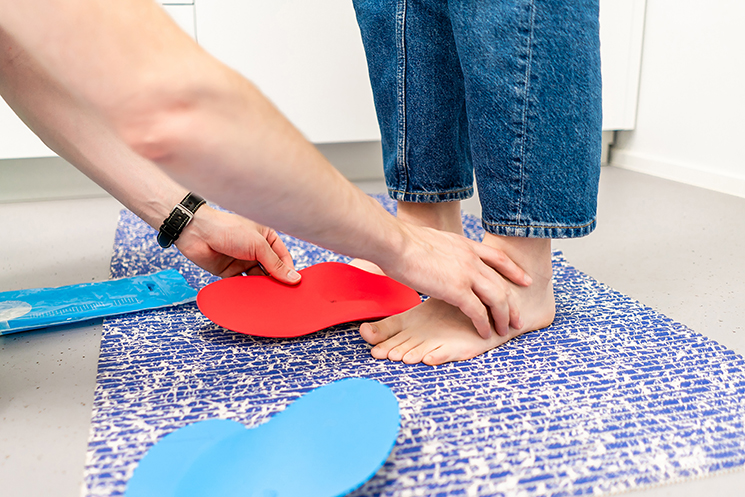 Bunions
Bloxwich Chiropody and Podiatry are experts in providing effective solutions for managing bunions. Bunions can be a painful and uncomfortable foot condition that can progress over time, leading to difficulties in finding comfortable footwear or participating in daily activities. Fortunately, a podiatrist or chiropodist can offer valuable guidance on managing bunions and preventing them from getting worse.
One of the key ways to manage bunions is by wearing appropriate footwear. Bloxwich Chiropody and Podiatry can recommend suitable footwear that can potentially slow down the bunion's progression and provide greater comfort. They can also provide custom orthotics, which are insoles or inserts that can be placed inside shoes to provide support and alleviate pressure on the affected area.
In addition to recommending appropriate footwear, the chiropodist and podiatrist can remove any corns or calluses that develop over the bunion and provide silicone gel devices to cushion and protect the affected area. These devices can help to reduce pressure on the bunion and provide relief from pain.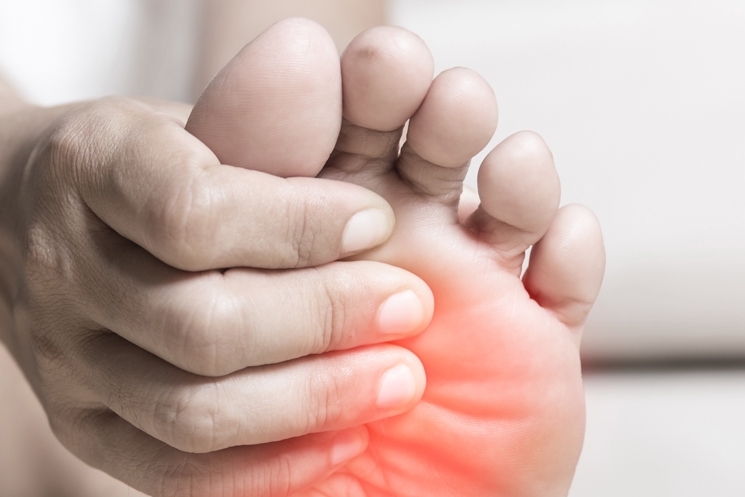 Toe / Heel pain
At Bloxwich Chiropody and Podiatry, we understand that Toe/Heel pain can significantly impact daily activities and overall quality of life. Therefore, we offer assessments to determine the underlying cause of the pain, which can vary from person to person.
One of the most common causes of heel pain is plantar fasciitis, which occurs when the thick band of tissue that runs across the bottom of your foot becomes inflamed. This condition can make standing, walking, and running extremely painful. Another cause of heel pain is Achilles tendonitis, which affects the tendon that connects your heel bone to your calf muscles. This condition can cause swelling, stiffness, and pain in the back of your heel.
Our experienced podiatrists and chiropodists at Bloxwich Chiropody and Podiatry can determine the root cause of your Toe/Heel pain and recommend appropriate treatments to alleviate your discomfort. We offer a range of non-surgical treatments, such as custom orthotics and physical therapy to help reduce inflammation and promote healing.
Don't let Toe/Heel pain keep you from enjoying your daily activities. Visit Bloxwich Chiropody and Podiatry today and let our team of experts help you find relief from your pain.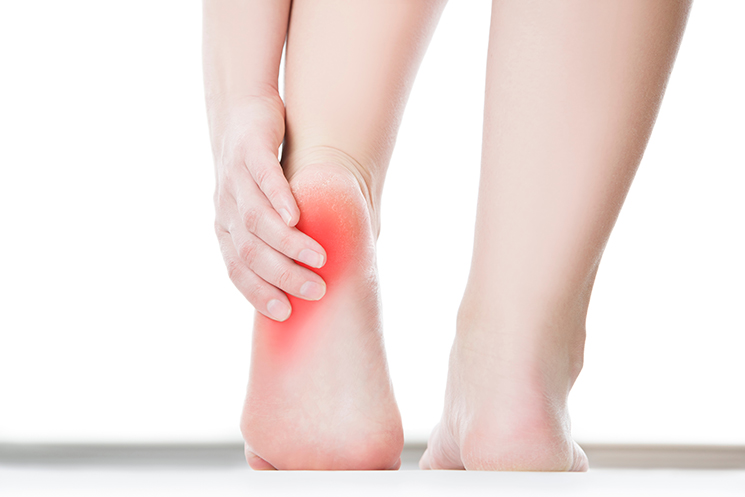 Corns and Callus Debridement
In addition to reducing discomfort and restoring a natural appearance, podiatrists and chiropodists at Bloxwich Chiropody and Podiatry can offer valuable advice on preventing future calluses and corns from forming. They may recommend appropriate footwear and provide orthotics or padding to redistribute pressure and alleviate stress on the feet.
It's important to note that calluses and corns may require ongoing care to prevent recurrence, particularly for individuals with underlying conditions such as diabetes or peripheral vascular disease.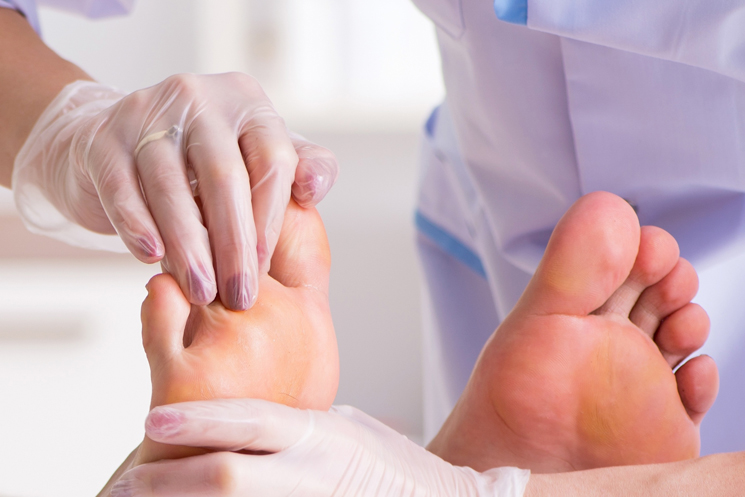 Cracked Heels
At Bloxwich Chiropody and Podiatry, we understand the discomfort and pain that cracked heels can cause, and we offer treatment plans to help patients restore healthy, smooth skin. Our podiatrists and chiropodists can tailor a treatment plan to meet the patient's needs, which may include a combination of debridement, filing, and moisturization therapy using emollients.
During the debridement process, the hardened skin around the heels is carefully removed with a scalpel, ensuring minimal discomfort and restoring a natural appearance to the skin. Patients will be advised on proper foot care and appropriate footwear, which can help prevent future complications and improve foot function.
Our goal is to not only relieve discomfort but also prevent any further complications from developing, ensuring that patients can enjoy healthy, pain-free feet. At Bloxwich Chiropody and Podiatry, we believe that everyone deserves healthy, comfortable feet, and we strive to provide the highest quality care to help patients achieve this goal.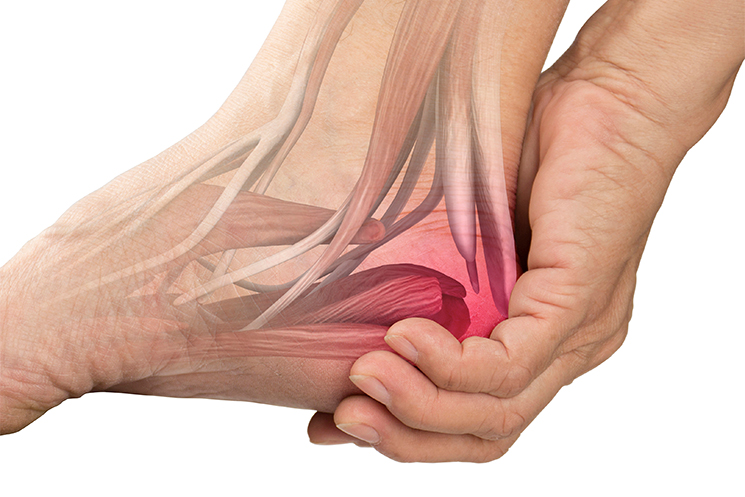 Fungal nail infections
Bloxwich Chiropody and Podiatry can treat Fungal Nail Infections. We will advise on how to prevent the infection from spreading to other nails or other parts of the body. This includes proper nail care, such as keeping the nails trimmed and dry, avoiding sharing nail clippers or nail files, and wearing breathable shoes and socks. We also test for fungal nail infection with the results available at the end of your treatment. We will recommend antifungal powders or sprays for shoes and socks to reduce the risk of reinfection.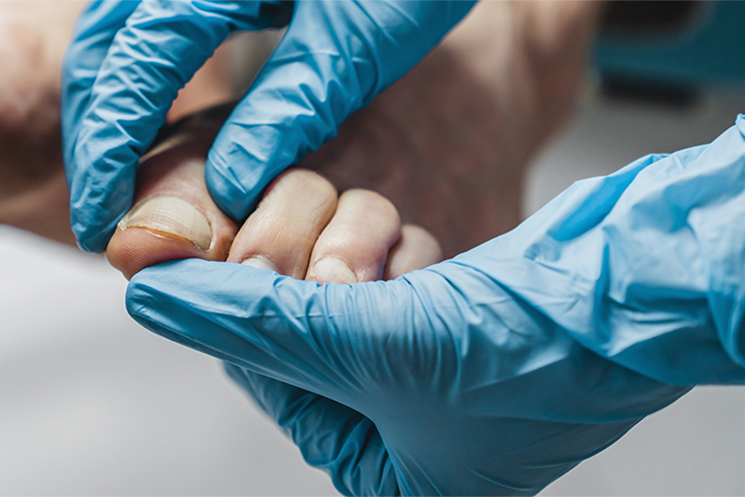 Plantar fasciitis
Plantar fasciitis is a common foot condition that can cause pain and discomfort in the heel and arch of the foot. It occurs when the thick band of tissue that connects the heel bone to the toes, known as the plantar fascia, becomes inflamed or irritated.
At Bloxwich Chiropody and Podiatry, our experienced chiropodists/podiatrists can provide effective treatment options for plantar fasciitis. The treatment plan may include a thorough assessment to determine the underlying cause of the condition, followed by a range of treatment options such as stretching exercises, massage therapy, orthotic devices and more.
Stretching exercises can help to relieve tension in the plantar fascia and promote healing. Massage therapy can also be beneficial for improving blood flow and reducing inflammation. Orthotic devices such as shoe inserts or custom-made orthotics can help to redistribute pressure on the feet and provide support to the arches.
At Bloxwich Chiropody and Podiatry, we understand the impact that foot pain can have on your daily life. That's why our team of experts is committed to providing treatment plans to help you get back on your feet and improve your overall foot health.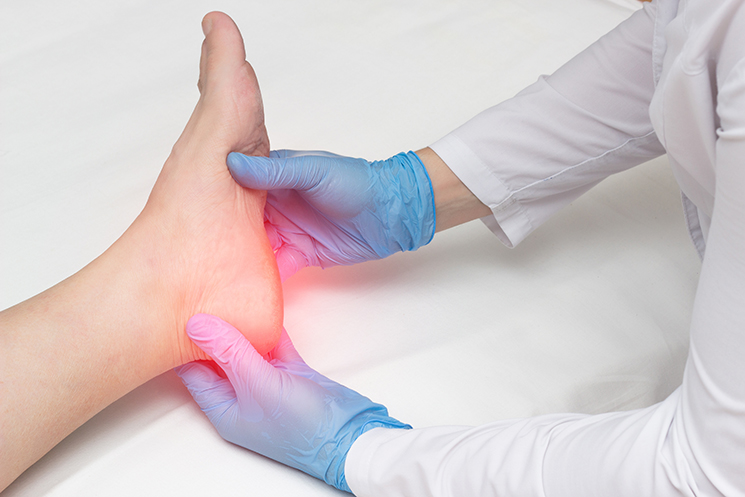 Metatarsalgia
Bloxwich Chiropody and Podiatry offers expert care and treatment options for various foot conditions, including pain and inflammation caused by musculoskeletal issues. Once the condition is diagnosed, a skilled podiatrist or chiropodist can provide a range of effective treatment options to alleviate pain and reduce inflammation. These may include stretching and strengthening exercises, orthotics, taping, and footwear modifications.
Stretching and strengthening exercises can help improve foot and ankle flexibility and strengthen the muscles and tendons in the affected area. Orthotics, such as custom-made shoe inserts, can help correct any foot deformities, redistribute pressure points, and provide additional support to the foot. Taping can also be used to alleviate pain and provide support during physical activity.
Footwear modifications may involve recommending specific shoes that are appropriate for the patient's condition or providing custom orthotic devices that can be placed inside the shoe. This can help alleviate pain and reduce the risk of further injury.
At Bloxwich Chiropody and Podiatry, our experienced and knowledgeable team can provide individualised care and treatment plans to help patients manage their foot conditions and improve their overall foot health.